Champion of Hale County, Alabama


Samuel Mockbee and the Rural Studio



Andrea Oppenheimer Dean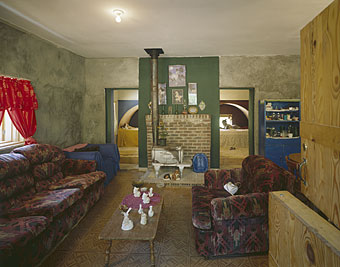 In Hale County, Ala., you see ghost buildings — abandoned barns, tumbledown shanties, and rusted trailers — fragile remnants of a once-prosperous agrarian past. You see old people quietly sitting on sagging porches and scruffy chicken hens noisily pecking and wandering on hard dirt yards. Hale County, little changed since photographer Walker Evans and author James Agee brought it to national attention in the U.S. with Depression-era descriptions in Let Us Now Praise Famous Men, is also home to architect Samuel Mockbee's Rural Studio.
For 11 years, Mockbee and his Auburn University architecture students at the Rural Studio have been designing and building modest, innovative houses and public buildings for poor people in Hale County while shoring up and enriching their fragile communities. The structures, although modern, look right at home here with their protective roofs and roomy porches, shedlike forms and quirky improvisations. "The best way to make real architecture is by letting a building evolve out of the culture and place," Mockbee told me, in the deep drawl of his region. "These small projects designed by students at the studio remind us what it means to have an American architecture without pretense. They offer us a simple glimpse into what is essential to the future of American architecture, its honesty."
Before his death in late 2001, the bearded, bearish, 57-year-old Mockbee, a 2000 MacArthur "genius grant" recipient, left his home in Canton, Mississippi, most Monday mornings in a beat-up truck, drove 170 miles due east into the tiny Alabama town of Newbern, the Rural Studio's base, and spent the rest of the week working and living with students in a rundown 1890s farmhouse. Mockbee said, "If you're going to do this you gotta' pack your bags, kiss your wife goodbye, and go to war." Strong words from the least belligerent and dogmatic of men.


In Newbern, Mockbee, a nationally acclaimed designer, bucked his profession's prevailing emphasis on fashion to devote himself to the patient work of helping students design and build inexpensive but striking and sustainable structures, while teaching them fundamentals of decency and fairness. His students, largely white and middle-class, work nose-to-nose with poor, black clients, and for many this "classroom of the community," as Mockbee called it, is a first intimate experience with "the smell and feel of poverty." The Rural Studio, he told me, takes education out of the theoretical realm, makes it real, and shows students the power of architecture to change lives. "Through their own efforts and imagination," Mockbee said, "students create something wonderful — architecturally, socially, politically, and environmentally. And once they've tasted that, they're not going to forget it."

Slowly, the Rural Studio is inscribing its mark on Hale County, inserting structures made of mostly salvaged or donated, often curious materials—beat-up railroad ties, old bricks, donated lumber, haybales, baled corrugated cardboard, rubber tires worn thin, license plates, and road signs. Under Mockbee, Rural Studio students completed four houses, a smokehouse, a community center, a basketball court, a children's center, a playground, new dormitories for themselves, an outdoor pavilion, a farmers' market, and a Boys and Girls Club. The finished buildings have a strong affinity to Mockbee's designs for private clients. They are modern but grounded in Southern culture and have a decidedly eccentric touch.

The Rural Studio designed and built its first two houses and one of its community buildings in Mason's Bend, a hamlet of about 150 people who live in minimal housing along a dirt road that tucks into a bend of the Black Warrior River. The first house was for Shepard and Alberta Bryant, who had been living with their three grandchildren in an unheated shanty without plumbing. The students, after exploring and rejecting other low-tech methods for creating an inexpensive, well-insulated dwelling, decided to use hay bales for the substructure of the walls. Hence the name "Haybale House." They wrapped the bales in polyurethane, stacked them like bricks, secured the stacks with wires, and covered them with coats of stucco. The outcome is inexpensive, super-insulated walls.

The Bryants told Mockbee and the students that they wanted mainly two things in a house: a room big enough for a bed and desk for each grandchild and a front porch to entertain neighbors and family. The completed, 850-square-foot dwelling has three little barrel-shaped niches for the grandkids. Their rooms extend like fingers from the rear of the main interior space, which is organized around a wood-burning stove. Next to the Bryants' house, the students built a smokehouse of concrete rubble and glass for Shepherd Bryant, who still fishes in the nearby Black Warrior River.

The Rural Studio's second house in Mason's Bend was for Anderson Harris, a crusty old coot, and his disabled wife Alberta. When Mockbee suggested to Harris that the Rural Studio might build a house for him, Harris replied, "I don't think I'll take one of those." In Harris' presence, Mockbee told me that Harris probably distrusted any offer coming from a Mississippi white man. Harris, denied it, saying he had almost nothing and was afraid "they" would take what little he did have.
The Harrises lived in a shack a few houses away from the Bryants' Haybale House, and when working on the Haybale, Mockbee noticed the Harrises were always sitting on their porch. That's why the studio built them a house that's nearly half porch. The porch's winglike shape accounts for the nickname, "Butterfly House," and like a butterfly the house is light and airy. The roof's two intersecting rectangles create a 250-square-foot screen porch. The roof's dramatic shape channels cool breezes, and its sharp angle harvests rainwater that runs into a cistern and can be used for toilets and laundry. Costs for the Butterfly House, about $25,000, were kept low by using tin as roofing material and cladding the building in heart pine recycled from an old church that had been razed nearby.


Another project, the Yancey Chapel, perches on a bluff overlooking an open field and wetlands. Because its walls are made of recycled tires, everyone refers to it as the "tire chapel". To form the chapel's walls, the students filled 1,000 donated old tires with soil, fortified them with reinforcing bars, wrapped them with wire mesh, and coated them with stucco.
Mockbee described the Mason's Bend community center as "a windshield chapel with mud walls that picks up on the community's vernacular forms and shapes." It rests on a broad base of rammed earth that blends with the iron-colored road, and like neighboring buildings it hugs the ground. Mockbee told me he considered the building "as cutting edge as any piece of architecture in the United States." It is also a lesson in resourcefulness. The rammed-earth walls are 70 percent sand and 30 percent clay combined with Portland cement. The students poured the mixture into six-by-eight-inch forms and compressed it with a pneumatic tamper. To create trusses they cut down cypress trees from nearby land owned by a friend of the Rural Studio. And for their glass roof they used old car windshields that they got for $120 from a scrap yard in Chicago, home to one of the students who worked on the project.
The way the Rural Studio works, briefly, is this: Each fall, approximately 15 second-year students and about the same number of fifth-year students leave Auburn University to live and work in and around Newbern, a town consisting of a general store and a post office.
Second-year students stay one semester and work on a house. During the early years, the students selected clients from a list presented to them by the Hale County Department of Human Resources. Realizing that client selection is not a job for 21-year-old, the faculty now selects clients. The students help identify the client's needs; they design a suitable dwelling and lay its foundation. The second semester's group continues the work, modifying the design as needed. It takes about a year to finish a house.

The fifth-year students, meanwhile, spend a full academic year in Hale County creating a community-oriented project. Working in small groups, they choose their own projects and scrape up their own materials, funding, and housing. Shepard Bryant's smokehouse, the tire chapel, and the Mason's Bend Community Center were all done by fifth-year students, as was a project the students call the Supershed and pods, a 144-foot-long, tin-roofed, barnlike structure that shelters one-room cottages, which the students call pods. They serve as housing for second-year male students. The pods, which fit snugly between the shed's timber columns, are a hodgepodge of materials, colors, textures, and quirky shapes. But despite their variety, the pods form a coherent whole because they're all the same size and line up on two sides of a brick walkway, creating a little street. The most noteworthy of the pods is made of bales of stacked, waste corrugated cardboard. During the manufacturing process, leftovers are shredded, compressed, and baled. And because the corrugated cardboard is saturated with wax to make it water-resistant, it's nearly impossible to recycle and usually ends in landfills.

Now that Samuel Mockbee is gone, what is happening to the Rural Studio? Its unofficial director is Andrew Freear, formerly Mockbee's right hand. In 2002, the studio completed five new projects. Among them is the last project initiated by Mockbee, a house in Mason's Bend for Lucy Harris and her family—daughter-in-law to the owner of the Butterfly House. Under Freear's direction the studio finished a storefront in Greensboro, Hale County's county seat as well as a church nearby and a pavilion in a recently reopened park. I recently visited the studio and was impressed. The new work is good. It's different, as Freear is different from Mockbee. But Mockbee's ideas and energy live on at the Rural Studio. It is surviving Mockbee's death, and possibly thriving.
---
Andrea Oppenheimer Dean's most recent book is Rural Studio: Samuel Mockbee and an Architecture of Decency (Princeton Architectural Press, 2002). Formerly executive editor of Architecture, she is a contributing editor of Architectural Record and a contributor to other design magazines.


---
This article was originally published in Landscape & Art, Summer 2003.