Close Encounters of the Fourth Kind


The Art of Lynne Hull


Ronald John Vierling





It was as a member of that third body of art makers that American Lynne Hull began achieving a reputation as a serious designer, whose structures on three continents did, indeed, take their places as healing sites; i.e., her works are akin to a profound apology to the beasts of the fields and the birds of the air for the organic devastation modern urban life has visited upon them. However, I would also suggest that Hull is more than a latter-day Gaea artist attempting to heal the wounds and salve the scars we have caused in our compulsion to control all living things. I contend that Lynne Hull's work moves closer and closer with each new construction, be it placed in the North America, Europe, or Africa, to art as an encounter of the fourth kind. For as much as her bird and animal inviting recreated habitats may well teach us a thing or two about our environmental manners, I am convinced we are not her target audience. Instead, she is attempting to communicate as sister and friend of the various species that will use her migratory birds platforms, her water holding hydroglyph carved into desert canyon stones, her floating islands that will become moss-laden, overgrown sites for water fowl, frogs, turtles, and snakes, places where fish can hide from both the heat and the cold.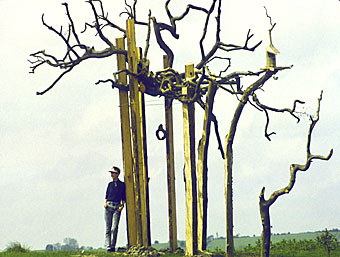 That is not to say that Lynne Hull's spiritual motivation does not have to face up to the financial facts of making a reasonable living, nor does it mean that she approaches each new installation with a predisposed notion of what she should erect. To do so would turn her into yet another ego-driven artist trying to retool the world for her own purposes, and it certainly does not mean she can ignore country officials and environmental impact statements. It does mean, however, that in the balancing act between aspiration and practicality, Hull must perform each time she is commissioned to create a new site, her work keeps trying to break through our limitations and, like those ancient shamanic artisans whose works spoke to the intricate web of circumstances and consciousness, signal the species with which we share this space that at least one artist wants to resume the dialogue we once enjoyed.


---
Lynne Hull is an environmental artist. She has pioneered "trans-species" art, creating sculpture installations as wildlife habitat enhancement and mitigation for human impact. She has worked in 14 states and 6 countries, with a wide variety of wildlife agencies and communities, and with funding awards ranging from arts grants to a Fulbright fellowship and the U.S. Mexico Fund for Culture. Her current investigations include migratory birds and wildlife corridors.

Examined as broadly as possible, it could be argued that art has passed through three identifiable stages and is poised to begin a fourth. Summarized briefly for the purposes of this study, image making began with prehistoric shamanic artisans whose sculpted figures represented as divine emanations the varied forces that shaped human life, everything from the natural elements to the wild crops tribes gathered to the animals they hunted and the mystery of fertility. In the case of those early works, it was not the individual artisan who was important; rather, it was the collective tribal expression that mattered most.
However, once the "household divines" became an abstraction, the product of desert seers suffering from too much heat and too little water, ego was suddenly as important as metaphor. Thus, for the next 7000 years, both institutional and individual agendas held sway, from Egyptian pharaohs to Renaissance kings to rebellious romantics to color field expressionists, who apparently believe their mindscapes plumb what poet William Butler Yeats termed the spiritus mundi so faithfully that all of us should stop and gaze in wonder at the great, looming shapes their dreams contort.
The third stage, Eco-feminist art, tied directly to social, political, and theological feminism, has rejected as much as possible the art gallery world in an attempt to re-ignite the notion of human stewardship for the environment, as opposed to the 5000 years' old tradition of humans as lords of the global domain.


As carefully as any artist whose objective is to please gallery audiences, Hull's work tries to cross the divide of human language and speak to another obligation: to inform species who can only respond by using the sites, that even we human beings know we cannot make it much longer if we are the only species left standing.