Time Travel in Public Landscapes
Mierle Laderman Ukeles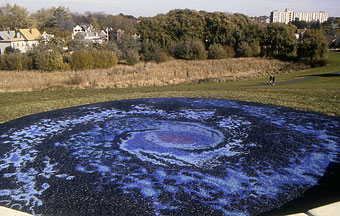 I am currently working on three former landfills: Danehy Park in Cambridge, Massachusetts, Fresh Kills Landfill in Staten Island, New York, and Hiriya in the Dan Region in Israel.
Though each is vastly different, all are what I called in 1978 when I started my work on landfills, "inner city outer space" — all share the following characteristics:
All are composed of household garbage and its aftermath: leachate, methane and other gases, polluted water and air.
All are proportionately large and located in dense urban landscapes: all are either within a city or directly face the city from which their garbage flowed.
Finally, they are not at all like sites of classical American earthworks that are in far away places on privately held land and accessible only to well-heeled travelers and intrepid earth art pilgrims. These sites are all what I call public landscapes: these are truly social sculptures. The public made the garbage that forms them; the public degraded these places; the public owns them. They are all definitely in your face places.
Working as an artist on any of these projects means working with others; this is definitely not a one-person show.

The third site, Hiriya, was closed in 1998. The landfill, occupying about 70 acres, is an extraordinarily visible table mountain because it is the lone mound jutting up about 160 feet high in an extremely flat landscape. Though almost the same age as Fresh Kills, it has only recently completed the first set of engineering assessments to determine the extent of remediation required. Thus, its process of remediation and closure has just begun. It is especially interesting because it sits in what I have called the "navel" of the whole country — at the cross-roads of Israel's two main highways that connect its biggest cities: Highway #1 from Jerusalem to Tel Aviv and Highway #4 from Beersheba to Haifa. As well, the Hiriya mound sits inside the boundaries of the Ayalon Park which is currently held open because it is a floodplain of 2,000 acres on the edge of Tel Aviv. There is a continuing strong effort being made by a green coalition to keep this huge site open as a tremendous public park.

Though each landfill is composed of the same basic material — household garbage — each was closed in different eras of environmental regulations, whether because of date or country, and is bound by different webs of regulatory constraints. Yet all three share something profound in common: all aim to be or to become safe, exciting public landscapes, and all three see themselves, very self-consciously, as international models of how degraded land can be returned to public use.

And they share one more aspect: each is luckily being guided by people who are willing to persevere for decades, an extremely rare trait in this fast world; and, in addition, these leaders are incredibly devoted to the realization of these sites at an extremely high standard of public space. This, I believe, is the key to thinking that each of these places, in its own scale and uniqueness, will become something of long-lasting value.

Strangely, there is a different kind and even a different shape of time adhering to each of the three projects I am currently involved with.
Danehy is by now mostly healed and almost shockingly normal. It remains always on a front burner among public infrastructure projects in Cambridge, under the watchful eye of the Deputy City Manager Richard Rossi who worked at the "dump" as a teenager and vowed many years ago to do something about this terrible place. But there is a tension here.

The City of Cambridge is extremely vigilant since the methane, though fully contained, is still present at low levels several feet under the surface: Park designer Kissida cautions that these places will never be like virgin landscapes, noting that you simply cannot dig more than six inches below the surface before having to deal with methane seeping out. As long as the surface stays sealed, the space is safe and usable. As a public local park, it is already fully operational and successful, featuring many different kinds of recreational spaces, often packed with users. The City has also been committed to my evolving and ongoing multi-part public art work, since I was awarded a commission in 1990, involved in inventing and expanding the park's unique cultural and environmental identity. This work has always had the strong fiscal and institutional support of the Cambridge Arts Council, led recently by Public Art Director Hafthor Yngvason and earlier by Pallas Lombardi.
Fresh Kills, is in the process of healing, but it will take a very long time before there will be visible results, mostly because of the vast scale of the site, where the New York City Department of Sanitation, under the leadership of Assistant Commissioner for Landfill Engineering, Phillip Gleason, is committed to a full remediation at the same public health standard as a new double lined landfill — despite its half century's age. A comprehensive Master Planning process for Fresh Kills with a renowned large interdisciplinary design team led by a landscape architect, under the guidance of the Department of City Planning, with a huge technical Advisory Committee of city, state and municipal society members, already in place, in a post 9/11 hard time of fiscal downturn and severely depleted public resources. I will be part of this team, finally, as the Percent for Art Artist of the Fresh Kills Landfill, a commission I received in 1989 and with a contract in hand since 1992, I have been waiting to go to work, in an effective way, once the Master Plan team is finally under contract! My contract runs until 2009. I hope to see the completion of the Master Plan and be able to construct some elements of the landfill / new landscape. But the completion of the entire site will happen only in 30 to 50 years, probably way beyond my own life's span.


Hiriya, is only now at the very beginning of its remediation. But, under the leadership of Martin Weyl, the head of the Beracha Foundation, Architect Naomi Angel, lead official from the Ministry of the Interior, together with Doron Sapir and Danny Sternberg from the Dan Region of Towns, the entity that operates the site itself, there is a determination and a spirit for the site to become public immediately, since 1998! It was already the subject of "Hiriya in the Museum", an international exhibition at the Tel Aviv Museum in 1999, as well as an international design workshop in 2001, and an international design charrette in 2003. These people are committed, along with many who have become attracted to this strangely beautiful site, to proceeding with making Hiriya public "right now" and advancing its design at the highest level of creativity despite being in an especially difficult fiscal and political time for Israel. I have proposed huge public art designs exhibited in the Tel Aviv museum show and am currently expanding concepts developed at the international charrette and hope to continue to contribute to the evolution of this place in a way still undefined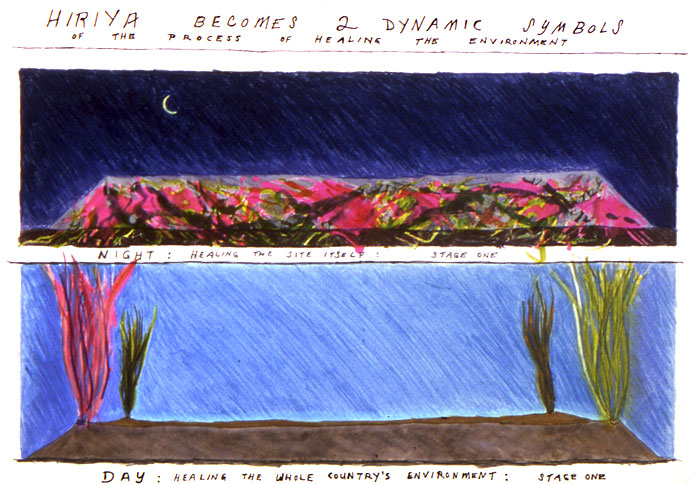 All three places are in a constant state of flux, yet each exists in different shapes of time. I have become a time traveler, shuttling back and forth, back and forth, in some demonic time machine from the already healed, to the healing, to the eager but unhealed. Each different kind of time has lessons for the others.
To those who say, this kind of land can never become usable by the public, I point to Danehy Park. Aha! you're wrong. Look at Danehy: it's returned. It's already in the present moment as a park. To those who say it will never become safe, I say, look at Fresh Kills: it has been taken from the bad old days and is slowly but ever surely becoming safer, as safe as the most advanced public safety standards demand. To those who say you can't do it, get rid of it, it's an eyesore, the leaders of Hiriya say come on top, right now, you can see much of the country that caused this place, you can get an understanding of where you are existentially in this country and even on this planet like no where else on earth.
Sometimes I get dizzy. Yet, I am obsessed with all three sites. The key is to have a flexible sprightly attitude about time itself, in order to face what I call the morphing challenges of each site. Each project breathes the possibility of releasing our unending powers of transformation in this world and of the artist's ability to unleash a unique process of creation for each site for with each different gestalt of communities, individuals and the geomorphology of the site itself.
Each work for each of the three places, even each single component of the overall work is different. Each grows literally out of a different station in the flow of my time travel.
I aim to ask in my work: can a public art process be engendered in these sites of degradation so that the public can participate in redeeming them? Can the art set out a path so that the public can re-connect with these public landscapes and belong to them in a powerful and positive way?
There are thousands of these sites, all over the world, waiting for creators.